English
Few Months ago there was a fake picture uploaded on social media at Minhaj ul Quran official facebook page which is an organization of Dr Tahir ul Qadri. The picture was turned into black and white from original colored picture and the title given was "Picture taken in 1903 when Ala Hazrat was young.This picture was taken without informing Ala Hazrat because he was against taking photographs. He was an awesome poet,scholar of religion,hadith and also an doctor. Died 1921"(We have attached that fake picture below)  The purpose of this picture was actually to defend dr tahir ul qadri on shariah issues against him because the person who was said to be Ala Hazrat was short beard just like dr tahir and Ahl e Sunnat says that a person who calls him self to be Hanafi (Follower of Imam e Azam abu hanifa) and does not follows the Shariah issues according to Hanafi rulings can not be a Sheikh ul Islam and Mujadid (Keeping Faith and infidel issues aside). So they tried to use fake picture of a person with short beard and claimed him to be Mujadid of this century Imam Ahmad Raza Khan (Ala Hazrat). But we have found the original picture which actually is picture of Medinah Library in Saudia Arabia not Braili shareef, India and was taken in 14 August 2007 by Thomas J. Abercombie for National geographic Creative photography. Minhajis please stop making and posting fake stuff to prove your dr tahir ul qadri right. He must face the scholars and answers them from quran o hadees on the issues the scholars of Islam have with him.
You can visit the link below for original picture and we also have attached a screenshot below to show you the reality.
http://natgeocreative.com/photography/616458
Roman Urdu
Kuch maah pehle social media pe Minhaj ul Quran k facebook k official page pe jo k Dr Tahir ul Qadri ka idara hai waha aik tasweer upload ki gayi thi. Wo tasweer rangeen se kaali aur safaid ker di gayi thi aur mazmoon us ka ye tha k "Hazrat Molana Ahmad Raza Khan Brailwi 1903 Aalam e Jawaani me. Ye Tasweer Chori chori un ki la ilmi me utaari gayi thi. Wo photo utarwanai se inkaar kertai thai. Ala Hazrat Ba Kamaal Shair, Aalim e Deen, Muhadis aur tabeeb bhi thai. Wafaat 1921" (Hum ne wo jaali tasweer bhi nichai de di hai). Is tasweer ka maqsad ye tha k dr tahir ul qadri ka sharai masail me difa kia jaa sakai kyu k tasweer me jis ko Ala Hazrat kaha gaya hai us shakhs ki daarhi hanfi sharai had k mutabiq bahot choti hai bilqul dr tahir jesi aur Ahl e Sunnat kehtai hai jo shakhs khud ko hanfi kehta hai (Imam E Azam abu Hanifa ka pairokaar) aur sharai masail pe Hanafio k mutabiq amal na kerai to wo naa hi sheikh ul islam ho sakta hai aur na hi mujadid (Imaan o kuffar k masail alag se). Bas dr tahir k haq me bolnai k liye minhajio ne ye juthi tasweer bana ker aam ki aik choti daarhi walai shakhs ki tasweer laga ker us ko Waqt k Mujadid Imam Ahmad Raza Khan (Ala Hazrat) ka naam de ker.
Lekin hum ne sahi tasweer dund li hai ye tasweer haqiqat me Medinah library ki hai saudia arab me naa k brailwi shareef, india ki aur ye tasweer 14 August 2007 me Thomas J.Abercombie ne National geographic creative photography k liye khenchi thi. Minhajio tum se arz hai k juthi chizai aam kerna chor do dr tahir ko sacha sabit kernai k liye us ko ulema k samnai lao taa k jo aitraz hai us pe hai Quran o hadees se jawab dai. Ap log nichai juthi aur haqiqi tasweer dono dekh saktai hai.
Fake Picture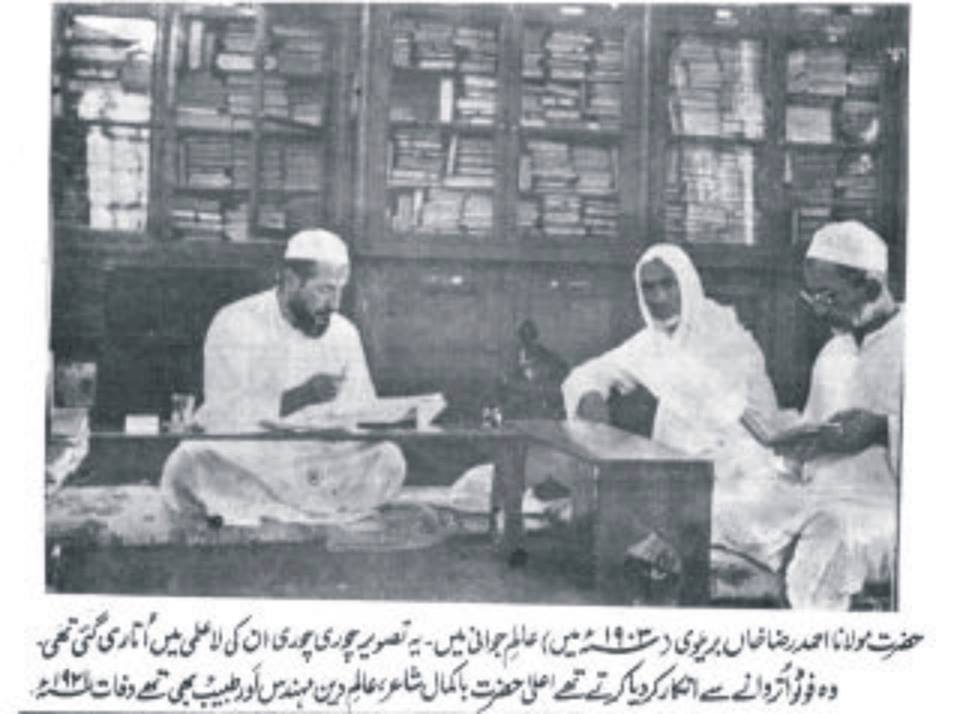 Original Picture