Two same kind of processions but different Fatwas!
The first procession picture is of Milaad which is celebrated because of the birthday of Prophet Muhammad ﷺ . But according to deobandi's and Wahabi's it is strictly Haram and Sinful.
The Second image is of processions in Support of Companions of Prophet Muhammad ﷺ but according to Deobandis and wahabis it is permissible and increases your good deeds and blessings.
Hypocrisy at its best!!!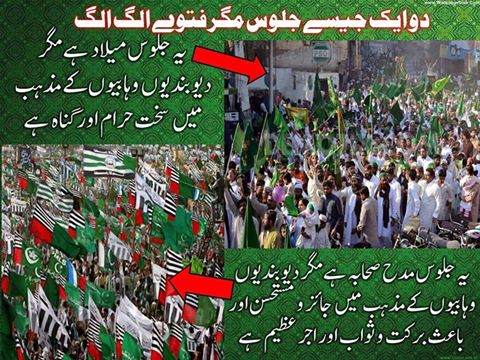 Roman Urdu Description
Milaad aur Jaloos
Do Aik jese Jaloos Magar Mukhtalif Fatwa
Pehli tasweer is Banner mai Jaloos e Meelad e Mustafa ﷺ hai. Jo manaya jata hai Wiladat e Rasool ki khushi mai. Lekin ye Wahabi aur Deobandio k nazdeek haram hai.
Dusri Tasweer Rasool Allah ﷺ k Sahaba ki azmat k liye nikala gaya hai jo Wahabio aur Deobandio k nazdeek hilal hai.
Ye hota hai Munafiqat ka Aala Muqaam.
Join us on Social Media. Facebook | Twitter | Instagram