English – Minhaji lies about Allama Saqib Shaami
At Sufi Conference India 2016 Pir Saqib Shaami was requested to tell people there that Dr Tahir ul Qadri has repented from his Non Islamic beliefs but instead of following the management there he openly said what the truth was and also mentioned that Sunnis have Asooli Issues and Asooli issues are which denying makes the person Kafir. The Part on Dr Tahir from lecture of Pir Saqib Shaami and Minhaji Propaganda against him is is mentioned below.
Urdu Pir Saqib Shaami per Minhajio ka Juth
Sufi conference India 2016 mai Pir Saqib shaami sahib ko kaha gaya k logo ko bataye k Dr Tahir ul Qadri ne tauba ker li hai apni Kufria aqaid se lekin intazamia ki sunni k bajaye is Mard e Mujahid ne khulam khula jo sach tha bata dia aur ye bhi bata dia k Dr Tahir se Asooli ikhtalaf hai hamara aur asooli maslai wo maslai hotai hai jin ka munkir kafir hota hai. Pir Saqib Shaami sahib ka Dr Tahir pai bayan aur un k khilaf propaganda nichai parai.
English
Instead of replying on Non Islamic beliefs of Dr Tahir ul Qadri, Media team of Minhaj ul Quran started to share pictures saying that Pir Saqib shaami used to kiss hands and foot of Dr Tahir ul Qadri and today he just went mad for fame. Pictures Attached Below
Urdu
Kufria Aqaid pai jawab dene k bajaye Dr Tahir k us ki Media team Minhaj ul Quran ki ne kuch pictures share ki aur ye kaha k Pir Saqib Shaami to Dr Tahir k hand aur pao chumta tha aaj naam kamanai k liye pagal hogaya. Tasweer nichai mojud hai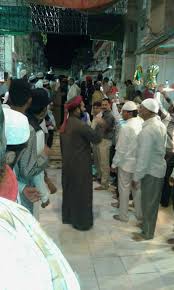 From Far he does looks like Pir Saqib Shami-Watch the Next pic

Now from this angle also it looks like that Pir Saqib Shami is kissing Dr Tahir's hand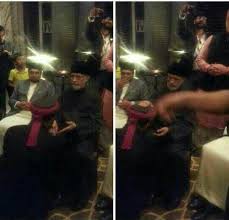 But We found the real person who is kissing hands of Dr Tahir ul Qadri and he is just look alike Minhajis found to do this propaganda.
See and decide if he looks like Pir Saqib Shaami to you from any angle.
This is not the first time they did such a thing. Minhajis keep doing such propaganda regularly to get support of People against them but remember lying is not a Muslims things but a Munafiq's
Click here to watch Minhaji Propoganda Against Dawat e Islami 2015
Join us on Social Media. Facebook | Twitter | Instagram
Click here to Visit our Video Website.
Click here to Visit our Book Store.