I.News
Mumtaz Qadri ka Salman Taseer ko Qatal kerna ki Duty kis ne Lagai???
Mumtaz Qadri ka Salman Taseer ko Qatal kerna ki Duty kis ne Lagai?
Hamara aik bahi Mumtaz Qadri ko Jail me mile aur Special Mulaqat hui with support of Isi Senior officers warna un ko milna ki Ijazat bhi nahi thi. Phir waha jab baat hui to Mumtaz Qadri Sahib ne bataya k Jis din Salman Taseer ko Wasil e Jahanam kia me ne us se aik Din pehle Meri Khawab me Pyare Aqa SalAllaho Alaihi Wasalam Tashreef laye the aur meri Taraf Dekh ker Mukurate hue Faramaya tha k " Me ne Tume Chun lia ha"
Next day ye hua k meri duty nahi thi Salman Taseer ki Guarding me lekin aik banda jis ka naam in list likha tha wo nahi aya phir us ki jaga muje bulaya gaya aur mera naam list me ne hone k bawajood gaya (Ye baat on record bhi ha). Jab ye Mamla hua to me samaj gaya k muje kis mamla k liye Chuna gaya ha. Phir Bas jab mera aur us Khanzeer ka Aamna Samna hua to me ne us ko Wasil e Jahanam ker dia.
Is doran Ghazi Mumtaz Qadri Darud Sharif per rahe tha. After killing Salman Khanzeer – The Great Ghazi Mumtaz Qadri ne Gun niche rakh di aur Naat e Paak perna Lag gaye YA RASOOL ALLAH TERE CHAHNE WALO KI KHAIR….. Ye Baat me full zimadari se ap tak pohancha raha hu koi Juth nahi na hi sirf Naam kerna k liye ker raha hu unka. To Jis ki Duty mere Sarkar SalAllaho Alaihi Wasalam laga de Gustakh k Haatma k liye hum to Us k Saath hi ha jinho ne dusri janib support kerna ha Gustakh ko wo kera aur Broz e Qyamat us k saath hi apna hisaab kerwaye.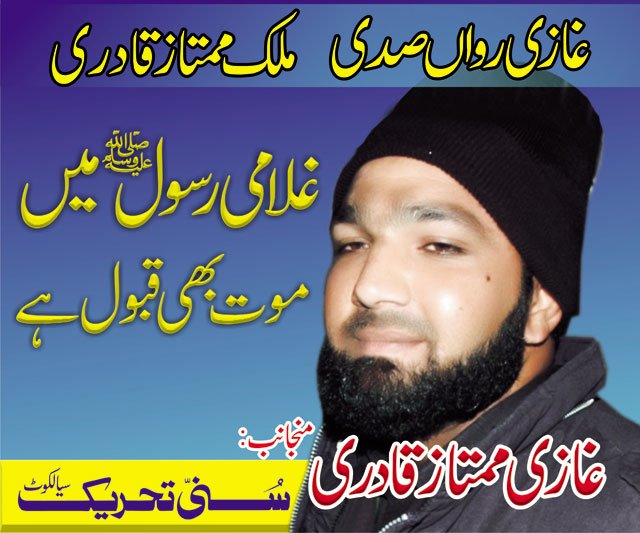 Join us on Social Media. Facebook | Twitter | Instagram
Click here to Visit our Video Website.
Click here to Visit our New Books Library