English Mazaraat Map / Tomb
The time Salafi – Wahabis attacked Hejaz (Now Saudia Arabia) it was in control of Turkey government. They destroyed the tombs of Sahaba in Jannat ul Baqi and also the Mazaraat Map. Our team has now made up a Map of Jannat ul Baqi with help of Scholars to show locations of Sahaba Graves in Jannat ul Baqi so the people who arrive in madina, they can visit that place and do Isaal e Sawab. Just remember us in your prayers.
Urdu
Jab Salafi Wahabio ne Turkey k daur e hakumat pe hijaz (Ab Saudia Arabia) par hamla kia to waha per Sahaba k Mizaaro ko bhi gira dia aur bhi kafi ilaqo me asai hi kia. Hamari team ne ab Ulema ki madad se Jannat ul Baqi ka aik Naksha tayar kia hai jis me Sahaba e Kiram ki Qabro ki nishandahi ki gayi hai. Jo Bhi Jannat ul baqi me jaye ye naqsha saath le jaye aur waha ja ker Un Sahaba k liye Isaal e Sawab ker saktai hai. Hame bhi dua me yaad rakhiye ga.
Correction-Update: In the Map the part where it is written Shuhada e Uhud they are actually Shuhada e Harra.
Urdu: Map mai jaha Shuhada e Uhud likha hai wo asal mai Shuhada e Harra hai. 
Jannat ul Baqi / Mazraat Map in Urdu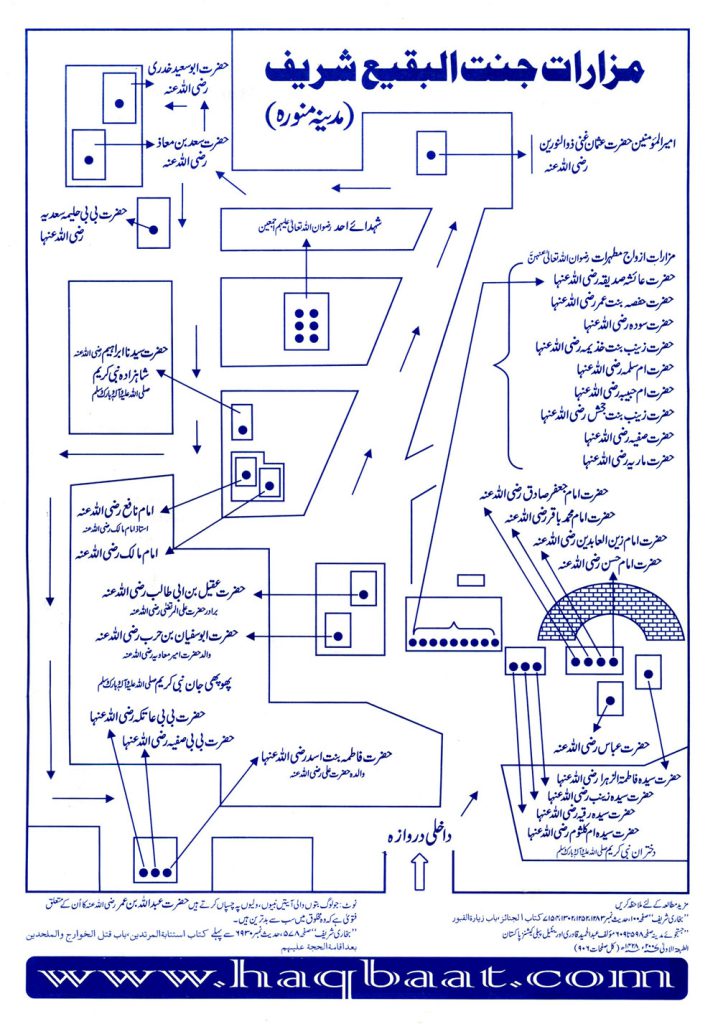 Jannat ul Baqi Map in English