English: According to Wahabi – Salafis Prophet Muhammad is not some one special and asking help through him is Shirk but when it comes to their so called Peer sufi Abdullah then asking help from him is Permissible and he can do a lot.
I am translating the original reference in image below now:
My friend Molvi Muhammad Ramzan Yousaf Salfi residing in Faislabad told me that once Sufi sahib went to a village and one person took them his house and said that this is my cow and every year it gives birth to a Bull please pray that this gives birth to a cow. Sufi sahib then caught her tail and pulled it towards him and said three times: Give cow_give cow_give cow after this that cow regularly gave birth to a cow for three years.
Note: So according to Wahabis Prophet Muhammad can not do anything and he does not knows what will happen in future but there so called Peer can even order a cow to give birth to female calves and it will do as ordered and that peer knows now female calves will born. The shirk only counts when we show superiority of Prophet Muhammad Sal Allaho Alaihi Wasalam. Maz'Allah. This clearly means that those who have such beliefs are committing a blasphemy so just beware from such people with wrong beliefs.
***Urdu Reference below and Roman Urdu defination below the image***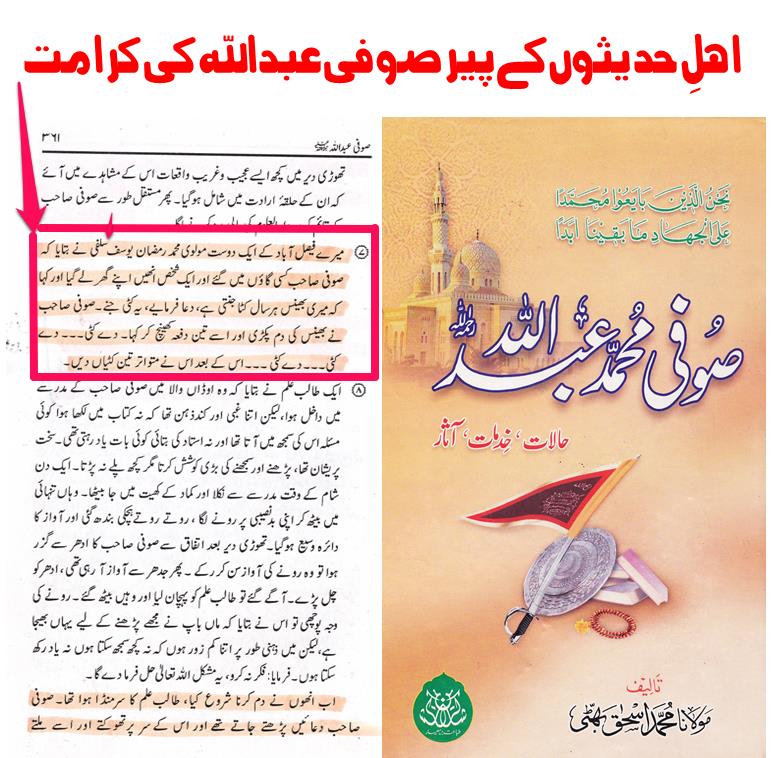 Urdu:
Wahabio Najdio k kareeb Rasool Allah ka itna khas muqaam nahi aur Aqa Alaihis Salato Wasalam se madad ya un k zariye mangna shirk hai lekin jab in k peer ki baari aye to sab kuch jaiz hai aur wo bahot kuch ker sakta hai.
Wahabi Apni kitaab mai likhta hai jis ka original scan upar hai.
7: Mere faislabad k aik dost Molvi Muhammad Ramzan Yousaf Salfi ne bataya k sufi sahib kisi gao mai gaye aur aik shakhs inhai apnai ghar le gaya aur kaha k meri bhains har saal kata janti hai' dua farmaiye ye kati janai_ Sufi sahib ne bhain k dhum pakri aur isai teen dafa khainch ker kaha_dai kati_dai kati_dai kati. Us k baad us ne mutwatar teen katia dei.
Note: To wahabio k mutabiq Rasool Allah SalAllaho Alaihi Wasalam kuch nahi ker saktai aur un ko nahi pata mustaqbil mai kia hoga lekin un ka peer gaye ko hukam de to gaye hi janai gi aur peer ko b pata hai katia hi hogi. Shirk sirf tab gina jata hai jab Shaan e Mustafa SalAllaho Alaihi Wasalam bayan ho. Maz'Allah. Ye saaf zahir kerta hai k jin k asai aqeeda hai wo gustakhi k murtaking ho rahai hai is liye asai logo se bachai jin k asai juthai aqeedai hai.