If some one recites this Darood e Malwaan once, he is rewarded with the recitation of 10000 Darood. So if you read it 100 times then you will get reward of reciting 1 Million Darood. Ma sha Allah.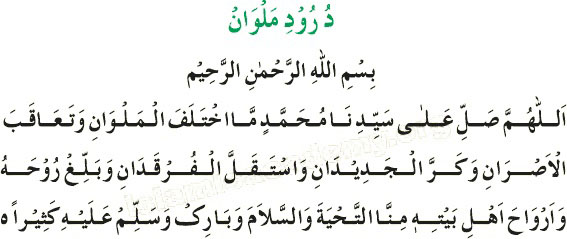 From the Book in English:
ALLAHUMMA SALLI ALA SAYYIDINA MUHAMMADIM MAKHTALAFAL MALWAANI WA TA'AAQABAL ASRAANI WAKARRAL JADIDAANI WAS TAQALLAL FARQADAANI WABALIGHRUHAHU WA ARWAAHA AHLI BAYTIHI MINNAT TAHIYATA WAS SALAAMA WA BAARIK WASALLIM ALAIHI KASEERAN.
"O Allah! Send blessings upon our leader Muhammad as long as there is the interchange of nightand day, as long as the morning and the evening follow one behind the other, as long as the nightand day repeat themselves jointly, and as long as the two bright stars (of Ursa Minor) remainfixed in their places, send from us our gift and peace on his soul and the souls of his familymembers and send peace and blessings on him abundantly".
By reciting this Durood Shareef once, one gets the Sawaab as reciting 10 000 Durood Shareefs.It will take you only 30 seconds to read this Durood Shareef, and you will get the Sawaab for 10000 Durood Shareefs. By reciting one Tasbeeh of this Durood Shareef 100 X 10 000 = 1 millionDuroods! In Ramadaan X 10 = 10 million Duroods!
Join us on Social Media. Facebook | Twitter | Instagram
Click here to Visit our Video Website.
Click here to Visit a Recipe Website.