Darood e Habeeb ﷺ Ashiqan e Rasool ka khas wazeefa hai aur is k beshumar fayooz o Barkaat hai.
Darood e Habeeb parhnai se Bai-Panah Allah ki rehmat hoti hai aur Gunah mauf hotai hai. Bhooli hui cheeza yaad Ajati hai.
Hazoor ﷺ ki Qurbat Naseem hoti hai Dunia k ghamo se nijaat milti hai. Amaal Naama mai Kasrat se Naikia Likhi jati hai. Ye Darood Parhnai walo per Allah razi ho jata hai ye Darood Qabar ki roshni hai.
Yeh Darood e Paak Hazoor SalAllaho Alaihi Wasalam ki Shifaat ka sab se behtareen zaiya hai Lehaza har dua k agaaz aur ahtamam per ye darood parhna chaiye.
Har Majlis k shuru mai ye darood parhna chaiye Subah o Shaam bal k har namaz k baad ye darood parhna bahot mufeed hai.
Waaz o Taqreer k shuru mai Haj k manasik ada kertai waqt, masjid mai farig waqt mai goya jis waqt moqa paye is darood Paak ko Kasrat se Parhai In sha Allah Dunia o Akhirat mai Kamyabi Hasil hogi.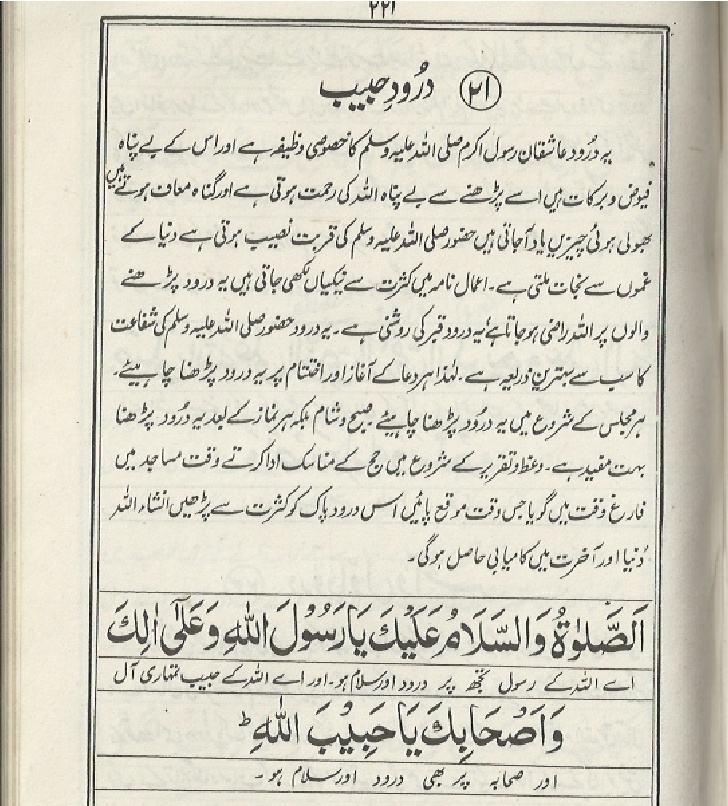 Join us on Social Media. Facebook | Twitter | Instagram
Click here to Visit our Video Website.
Click here to Visit a Recipe Website.