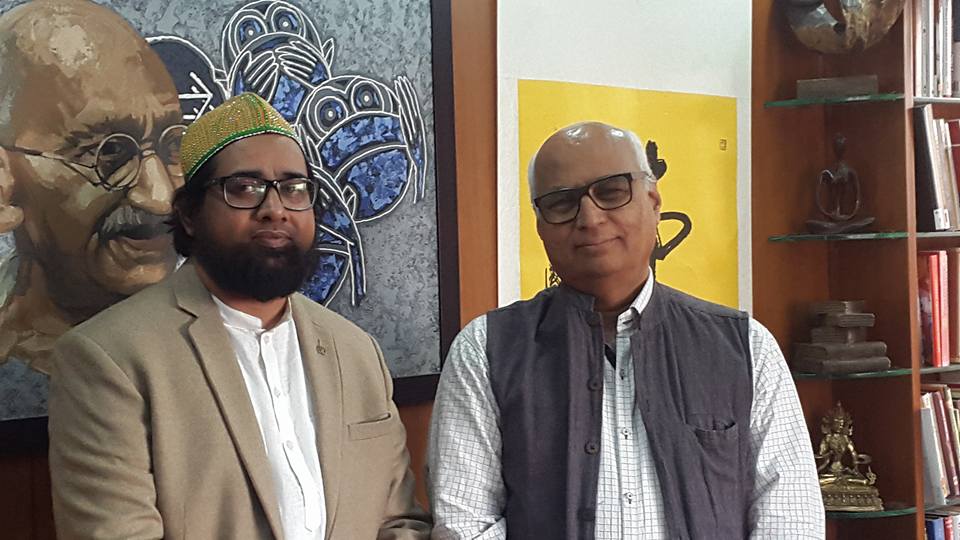 Syed Sibtain Hayder the Vice president of AIUMB (who are arranging Fake Sufies Conference with the full support of Modi Govt) Meeting with Senior RSS/BJP leader Sudheendra Kulkarni jo israel k sath milkar "InterFaith" ka churan bechta hai. Interfaith = New World Order.
Jane Sudheendra Kulkarni aur uske "ORF" k bare me.
"Observer Research Foundation" ka chairman Sudheendra Kulkarni ( Zionist) hai, jo pahle Marxist tha aur Baad me Bhartiya Janta Party (BJP) me aa gaya, jisne Babbri Masjid ko shaheed karne me ek aham kirdar ada kiya tha. uska manna hai k India k liye RSS ki ideology hi theek hai. (RSS Israel k sath milkar hi kaam karta hai India se muslims ko khatm karne k liye, danga karwana, muslims ko hindu banana aur har wo kaam jissse muslims kamzor hon inke kaam hain).
Sudheendra Kulkarni ne India k former prime minister Atal Vihari Vajpayee aur Lal Krishna Advani k sath bhi kaam kiya hai aur Pachhli BJP govt me aham kirdar ada kiya hai.
Isi "ORF" k sath milkar Tahir Padri ne last year "Interfaith conference" ki thee jab uska visa cancel hua tha.
Syed Sibtain hyder nayabe Tahir Padri aur ORF k bare me aur zyada janne k liye is link par visit karen, kaise ORF Islarael k sath milkar kaam kar raha hai iske liye picture no. 11&12 dekhen.
Tahirul Qadri Aka Allamah Maghribi's Israel (Zionist) Connection

http://orfmumbaionline.org/about/orf-mumbai
….
Quran: "O you who believe! Take not the Jews and the Christians as Friends (friends, protectors, helpers), they are but friends of each other. And if any amongst you takes them (as friends), then surely, he is one of them. Verily, Allaah guides not those people who are the Zalimoon (polytheists and wrongdoers and unjust)"
[al-Maa'idah 5:51]
JO TERE DAR SE YAR PHIRTE HAIN
DAR-BA-DAR YU HI KHAAR PHIRTE HAIN