If you have read Islamic history, you must know Rabia Basri. She is an amazing example for every Muslim woman. We can learn endless lessons from her life's struggle and devotions.
If you are unaware of the sacrifices of Rabia Basri, read below to find out: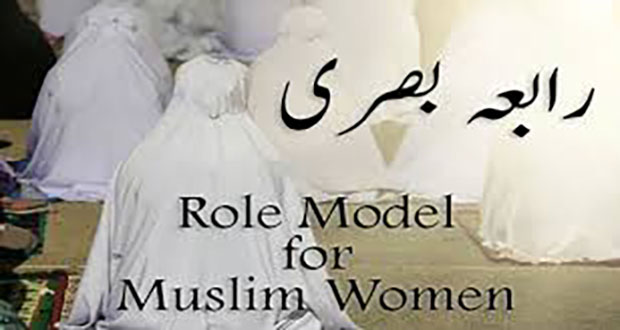 Who is Rabia Basri?
Rabia Basri was the first woman Sufi Saint of Islam. Because of her love for the Creator and devotion to Islam, she made commendable contributions to Sufism.
People consider her a role model for women. But her sacrifices give motivational lessons even to men. The duas she offered and her sayings are still popular.
List of these Dua can be downloaded from the Islamic Finder app.
A Poor Orphan
The family of Rabia Basri was very poor. But her father was a pious man. He always taught his family how to lead a simple and happy life.
Before Rabia, there were three other daughters of his father. She was the fourth one and that is why her name was Rabia, which means fourth in the Arabic language.
When she was born, there was not a single piece of newborn clothes for the new baby. Her mother asked her father to ask for some oil for the new baby. When he went, no one opened the door.
But on that night, his father saw a dream in which Allah was saying that this girl will set an example for many other Muslims.
After the death of her parents, Rabia's family got in to great trouble. There was no one to earn and fulfill the basic needs of their life.
When they had nothing to eat for three consecutive days, the four sisters went to search for something to eat. On their way, a brutal man caught Rabia and sold her to a rich businessman.
A Muslim Slave
After getting into the hands of a businessman, she began her life of slavery. But she never complained and always showed patience. Since she used to pray for the whole night, one day, her master observed some light around her.
At that moment, she was praying and saying that because of being a slave of this person, I am unable to pray on time. But in reality, I am the slave of Allah.
Her master heard this and on the next day, he freed her from his slavery.
An Example of Benevolence
One day some guests came to her house and there were only two pieces of bread at home. When she was about to serve the bread, a beggar came at the door.
She gave those two pieces of bread to the beggar and thought that Allah has said He gives 10 times more. At the very next moment, a woman bought 18 pieces of bread for her.
She returned the pieces and thought the woman might have sent them by mistake. That woman came again and this time she bought 20 pieces.
An Independent Women
Rabia got several marriage proposals from the richest individuals in the region. But she devoted all her life to the love of Allah.
One man saw Rabia in a veil and was impressed by her dignity and grace. After seeing her, he was in search of her house. The man luckily found the door of the house open so he stepped inside.
But when he saw the pious woman, she was deeply involved in praying to Allah. The man had no idea about the religious status of this woman.
As soon as she saw the man, the man felt sorry. Rabia told her that he did not do anything wrong. But she cannot marry her because she wants to devote the rest of her life to Islam.
An Example of Having Unmatched Trust in the Creator
From birth to death, Rabia Basri lived in poverty. Even before the death of her father, her family could hardly meet their daily needs.
Besides poverty, she became a slave. But even in slavery she did never complain. She always thought that she is happy in Allah's will.
Allah has given her this life and He is the one to decide whatever happens with us. Instead of being depressed, she used to thank Allah.
She kept on praying even after facing many hardships in life. It is her love and trust in Allah that will give her a beautiful place in heaven.
What do we learn from the Life of Rabia Basri?
Rabia Basri – A Woman with an eternal love for Islam has taught us numerous lessons.
Whether we talk about the lust for money, sacrificing for Allah, or the comfort of this world, we should see her life.
From her activities, she has shown that the powers of the world are nothing but temporary. This world is going to end soon and the life after death is real life.
We work day and night for earning money and getting all the luxuries of this world. However, we have no clue when this world is going to end.
Rabia Basri had got multiple opportunities to marry the richest man, but she refused. Even when she was starving because of poverty, she got an offer of help.
But the lady told everyone that she asks for help only from Allah.
Additionally, after giving the last two pieces of bread to her guests, she has shown how important is it to serve the best to our guests.
And, the way she has treated the beggar is a wonderful example for us.
Final Words
Rabia Basri was a great woman. Her entire life is a lesson for Muslim women. Today, when facing financial crises, we should seek help from Allah and be thankful for whatever we have.
She has shown us how to practice patience and wait for life after death. When we have this concept in mind, all these worldly luxuries will not look appealing to us.
May Allah give us a chance to spend our remaining life as per the life of Rabia Basri.